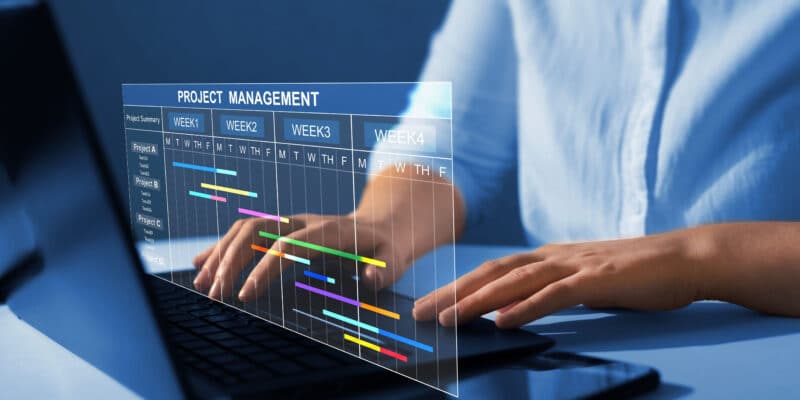 People Management is interchangeable with Human Resources, right? Wrong. Human Resources should be the experts on the people side of the business but managing people should never be limited to the HR department.
Project managers are primarily responsible for carrying the success of a project on their shoulders from start to finish. Completing projects on time and delivering them within allocated resources (time, resources, and money) remains the foremost priority of project managers across various industries.
That said, some project managers are so focused on managing the vital elements of a project (time, tasks, reports, scheduling, risks, project objectives, deliverables, etc.) that they forget about the most important element of the project – people; the ones who work together to successfully bring a project to fruition.
It's no secret that no matter how capable you are as a project manager, unless you pull together a high-performing team, you are unlikely to deliver a project that syncs with the expectations of both clients and the organization.
Poor people management in projects is as likely to contribute to project failures as failing to look after other vital dimensions of project management.
What is people management?
People management revolves around:
Understanding people
Communication
Collaboration
Knowledge and development
Let's take a look at some key people management skills:
Empathy – Whether it is providing feedback or delegating skills, empathy helps people managers understand where another person is coming from. By standing in their shoes and seeing things from their point of view, you can better understand what drives and challenges your team
Communication – Successful people managers must be able to communicate clearly and articulately with their coworkers in various circumstances
Active listening – It is essential to apply active listening when engaging with employees and coworkers, this ensures that the person speaking feels heard, understood, and valued
Creativity – Each employee has different needs and drivers. Discovering these differences is one thing, and acting upon this information is quite another. It takes creative thinking to solve people-related problems. Out-of-the-box problem-solving strategies can be an asset in people management
People management is incomplete without understanding the dynamics of human behavior. As a project manager, you need to understand that different people behave differently in a particular situation. It is mainly because human behavior is influenced by the combination of various factors- family, environment, beliefs, culture, ideology, etc.
What can project managers do to narrow the gap between project management and people management? 
Understand the dynamics of human behavior: As a project manager, it would help you to better understand your team members by learning the behavior of every individual
Transparent communication: To be transparent in the workplace is to stay true to the principle of open communication in every possible situation. No matter how challenging and uncomfortable it may be, the benefits of transparent communication are hard to ignore. When you readily share information and ask teammates to participate in decision-making, you send out the message that their opinion and their presence is important and valued. This results in a positive, relaxed, and genuine work environment, conducive to productive and innovative efforts.
Control and freedom: It's important to give your team a sense of ownership of the project. Displaying an authoritarian attitude will make you look more like a ringmaster than a collaborator par excellence. Trust your team members and their skills to carry out the tasks they are assigned to. When you give your team members a sense of freedom and flexibility to do certain things their way, they will feel more confident in their abilities as well as your leadership.
Setting time estimates: As a project manager you should set time estimates when assigning tasks to individuals or groups. This ensures that the assignees have a fair idea of what needs to be done by when.  It will also assist team members to set their own pace.
Recognize and reward: Nothing makes employees happier than being praised and rewarded for their hard work. This further motivates them to work harder because they know their efforts will not go unnoticed by the senior management.
People are our most valuable resource, and great leaders know how to get the best out of their teams to improve the overall quality of projects. Properly managed people will undoubtedly yield better results.
"People don't leave companies; they leave managers." How true this is, depends on who asks the survey question, but without a doubt, managers play a vital role in turnover. And it's not just the direct managers – but everyone involved in managing people.