Windhoek Consulting Engineers
Unlocking Value With Microsoft 365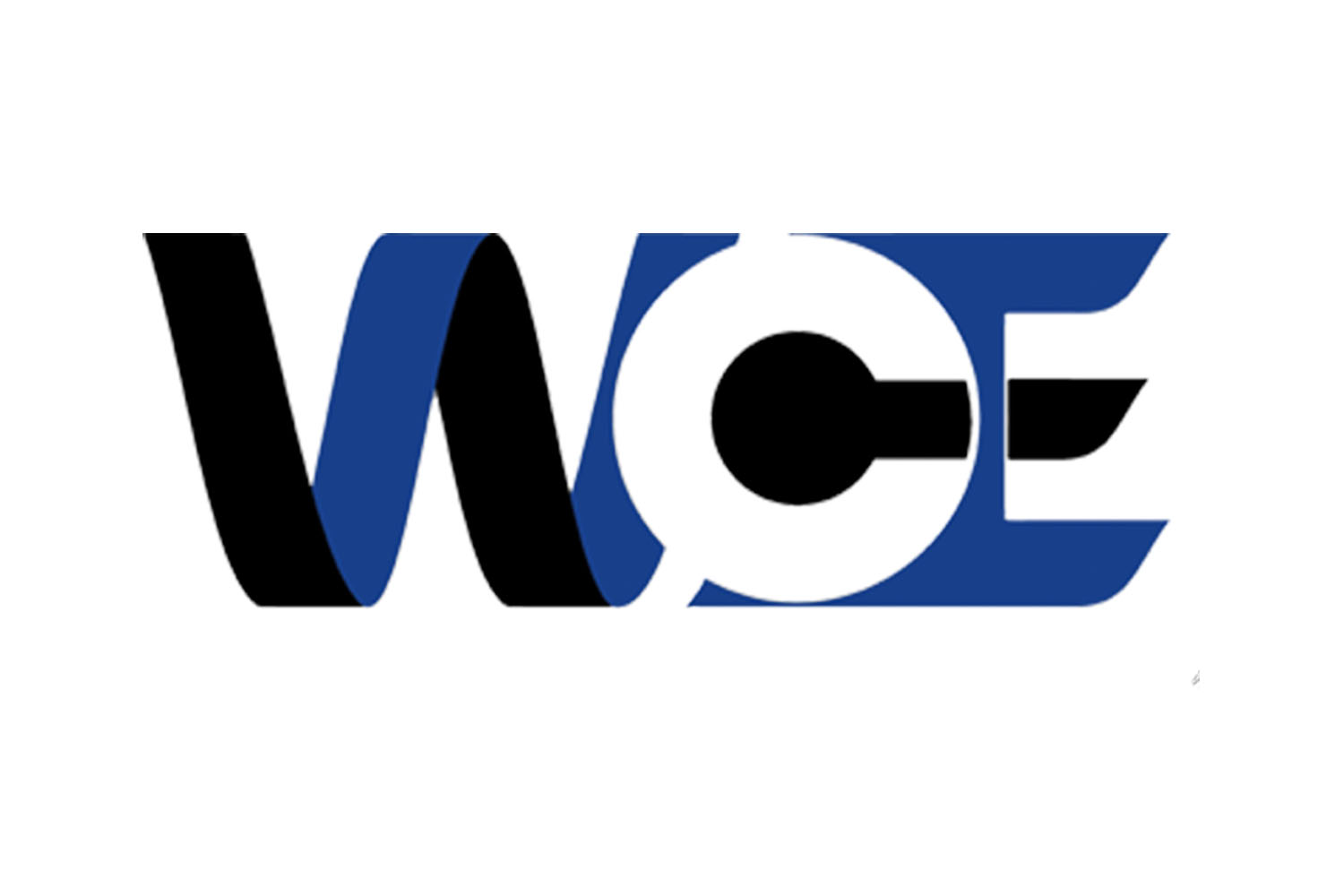 Striving to serve as one of Namibia's leading multidisciplinary consulting engineering and project management companies, Windhoek Consulting Engineers (WCE) provides Civil, Mechanical, Electrical, and Structural Engineering solutions to Namibian industries. With a drive to transform, WCE continuously strives to unlock value from the latest digital technology and associated infrastructure, aiming to be at the forefront of technology transformation in Namibia under the Engineering fraternity.
Business Challenge
As a growing organisation, WCE was experiencing collaboration and productivity challenges and started researching a software solution to streamline project management, improve communication between team members, reduce e-mails, and automate related business processes.
WCE struggled to find a solution tailored to its transformative objectives that would place the firm at the forefront of technology, despite the considerable investments into annual software and infrastructure upgrades.
The following challenges proved frustrating to WCE:
Access to e-mails – due to exchange server issues and remote connectivity constraints, staff would not have access to e-mails when on holiday or working from home.
Erratic server access – limited access to the file server via VPN forced employees to work late in the office to allow for access to information.
Security concerns – WCE had no effective way to manage access to information on servers. IT is served as the bottleneck for managing folder-level access with no self-service capability.
On-site infrastructure – maintenance was increasing in cost and frustration due to the access restriction problems. WCE was due to upgrade legacy software and old infrastructure which would have proven costly.
Internal e-mail traffic – ad-hoc communication was cluttering mailboxes and causing frustration.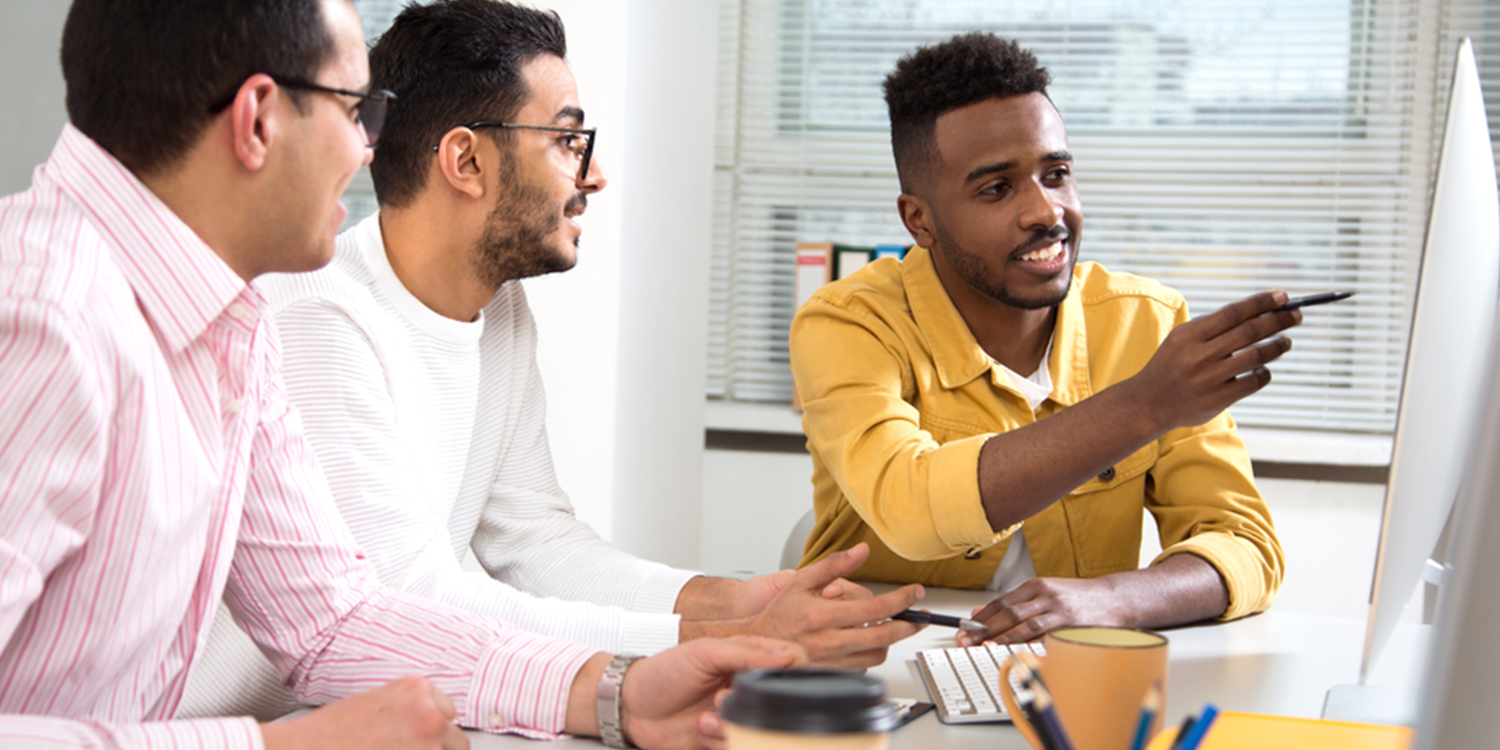 Azure Infrastructure combined with Microsoft 365 is the perfect solution for business productivity
Solution
When seeking a solution provider, WCE received many proposed solutions to its challenges and future objectives with Mint Group's solution deemed the "best fit" for the firm's requirements.
The solution proposed was centred around the powerful capabilities of Microsoft 365. Microsoft 365 offers a rich set of technologies and applications that enable users across organisations to access information securely and collaborate more efficiently across teams and user groups. These technologies and applications are designed to improve collaboration and increase productivity no matter a users' location or device preference.
The solution implementation comprised the following stages:
Email migration – migration of on-premise emails to Exchange Online.
Training – Microsoft 365 overview with the WCE Executive and Management teams.
Business Analysis Workshop – meeting with the business decision-makers and department heads to discuss collaboration requirements and challenges.
File migration – installation and setup of third-party migration software, and assisting WCE with the migration of active project files to Microsoft Teams.
Configuration and development – working closely with WCE's Microsoft 365 team.
Handover and enablement – appointment of a champion to configure a modern SharePoint Intranet.
Microsoft Power Platform tools – to date the following solutions have been created:


Project Request Process
Tender and Leads Process
Policies and Procedures
"Microsoft and Mint have made it possible for a novice Civil Engineer to manage his company IT infrastructure without being at the mercy of IT companies."
Value Realised
Following the successful completion of the initial Microsoft 365 implementation phase, WCE realised the following benefits:
Reduction in travel time and cost
With Microsoft 365 WCE, which comprises a client-base spread across Namibia, now only sends one employee to a client's premises, with the rest of the stakeholders collaborating via Teams.
Improved overall productivity
Short periods between meetings or at a coffee shop can now be utilised to attend to e-mails and tasks as employees always have access to information.
Record-keeping
Keeping records of assigned tasks and tracking progress on tasks via Microsoft Planner (outstanding, overdue, completed, etc.)
Streamlined security
Teams has enabled WCE to ensure that only the people that should have access to certain information have access.
Information organisation
Collaboration using Teams has increased overall project awareness and reduced the overall flow of internal e-mails with new team members having access to project communication and information history.
Next-level collaboration
With OneNote and Teams the whole team has access to meeting notes and recordings even if they did not attend which has improved project transparency.
Client satisfaction
Microsoft 365 will enable improved collaboration with WCE's clients, streamlining project management and client satisfaction.
Project Overview
The following images showcase the Policies and Procedures App, the Tender Application solution and the Project Request Form.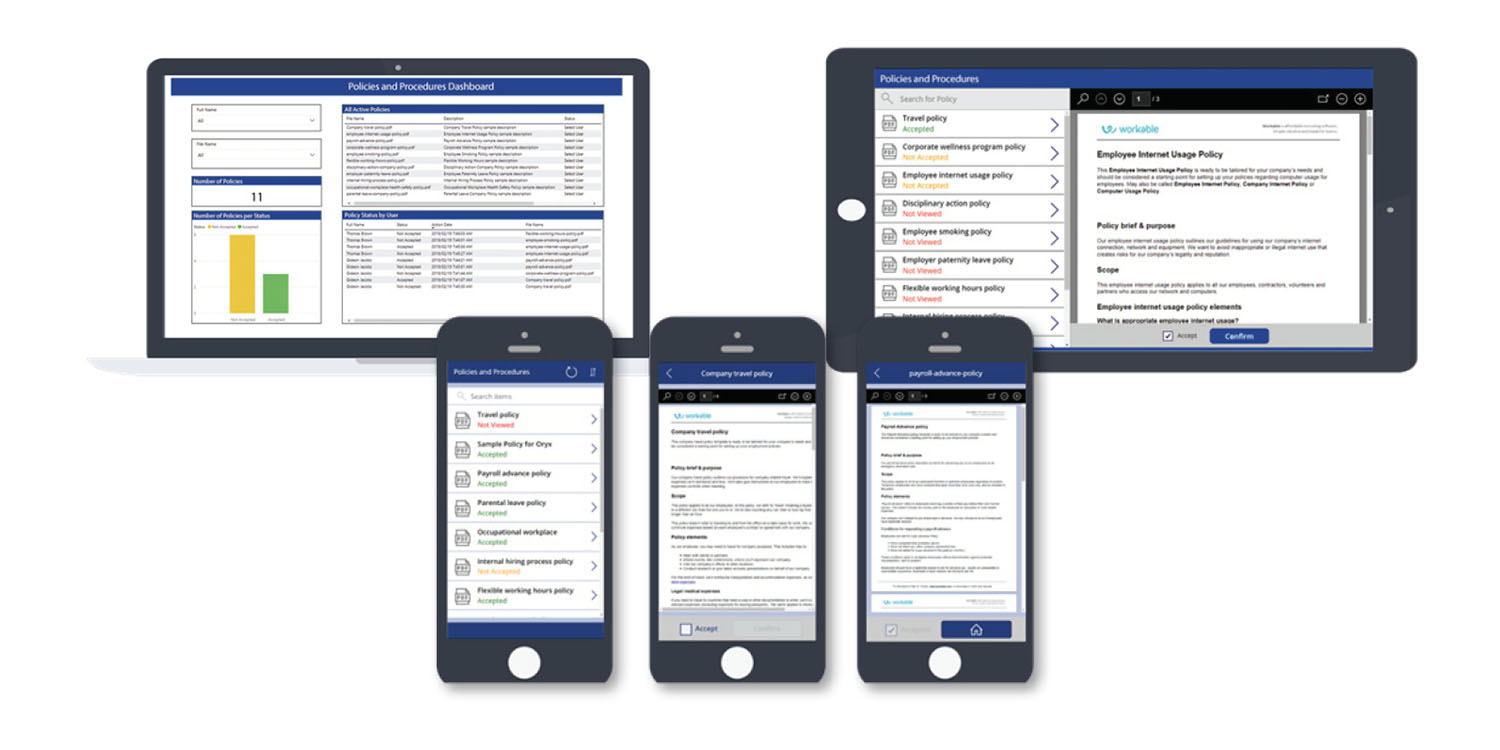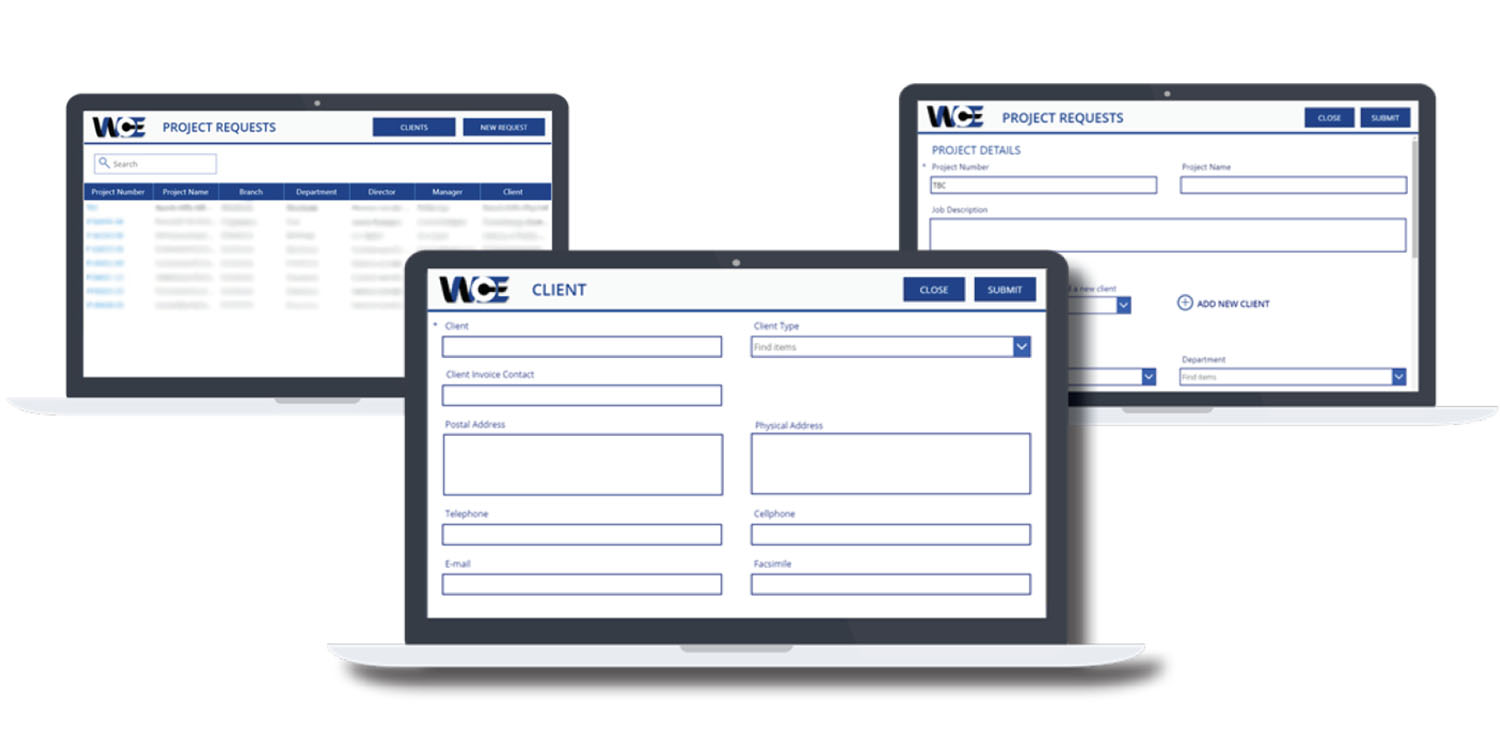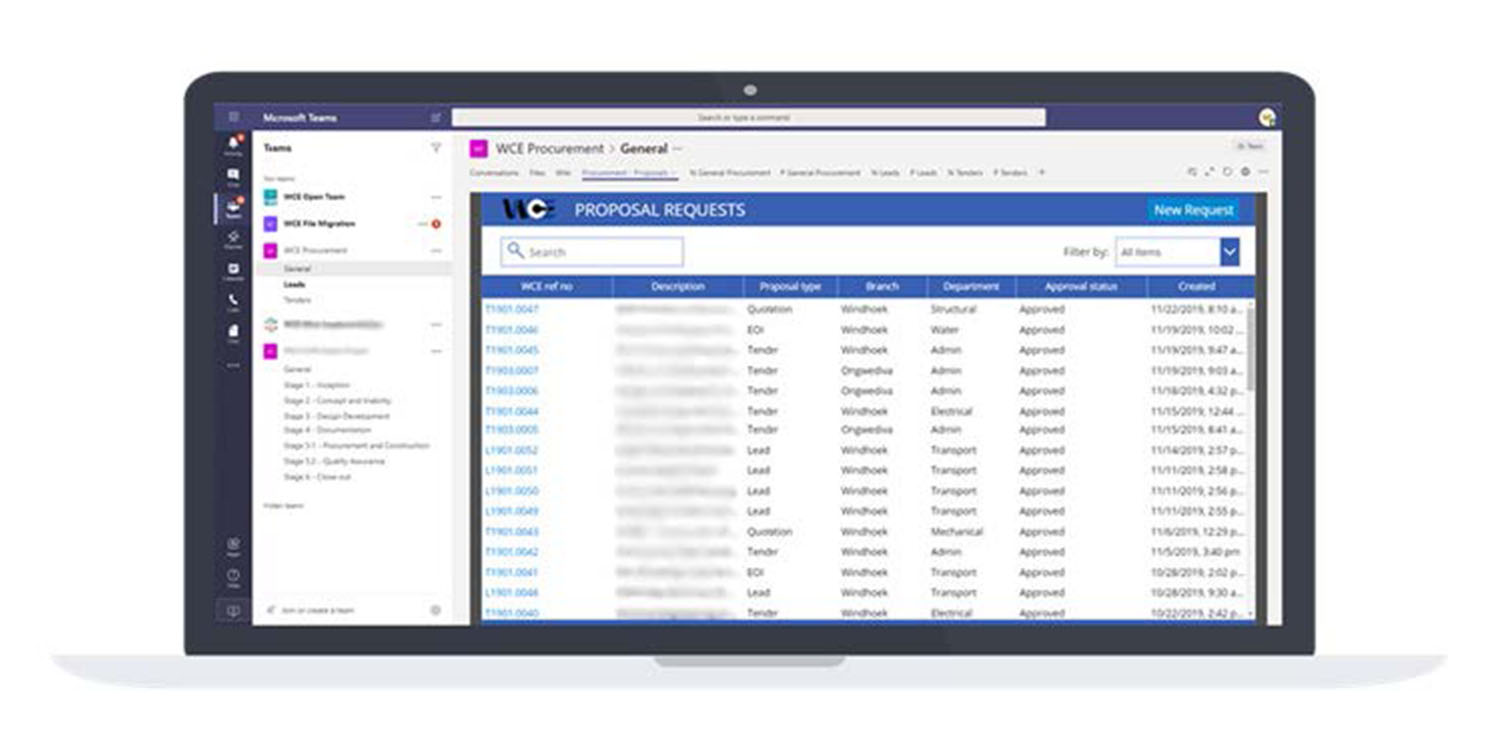 WCE's ultimate aim is to move all of its information and IT infrastructure to Microsoft 365 and Azure and to continue developing company-specific solutions that will transform its infrastructure and drive continuous innovation and transformation.
WCE Managing Director Victor Rieger stated that the digital transformation process for the firm has been painless as the benefits of transforming are obvious to the organisation.