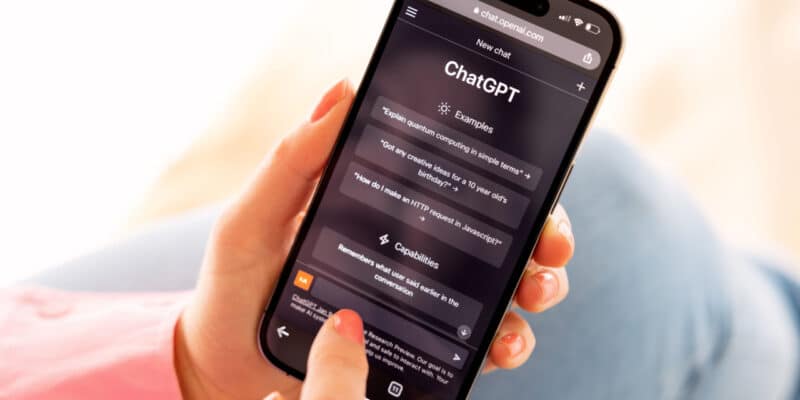 The 2023 World Economic Forum in Davos, saw generative AI virtually replace crypto as the hyped technology of choice for top executives and policymakers. Attendees couldn't get enough of a new development in the realm of artificial intelligence. AI Was King: ChatGPT, generative AI and even AI art installations were the talk of the Forum.
If you haven't heard or read about ChatGPT, where have you been?
Since the introduction of the iPhone in 2007, it is evident that generative AI has captivated the public's imagination more than any other technology. With very little marketing, ChatGPT shot to fame, late 2022. According to a tweet from OpenAI co-founder Sam Altman, the model reached one million users less than five days after its debut. To put this into context, it took Facebook 24 months to reach this milestone. Some people are tremendously thrilled about the potential changes this technology may bring to their lives and careers, while others are terrified, and many people are simply keeping busy entering questions into ChatGPT.
What is Microsoft and other tech giants saying about this new kid on the block?
The New York Times stated that the introduction of the chatbot allegedly prompted a "code red" within Google's parent company, Alphabet. (This indicates that the business is worried.) Microsoft, which already owns a share in ChatGPT-maker OpenAI, wants to increase its investment. The business apparently wants to invest an additional $10 billion. Microsoft made a $1 billion investment in the firm in 2019.
If Microsoft is investing, then ChatGPT is a big deal.
In an announcement that coincided with the World Economic Forum, Microsoft said it plans to market ChatGPT to its cloud-computing customers. Experts say ChatGPT could be a game-changer for Microsoft, as CEO Satya Nadella announces plans to roll out the technology across all of the company's products. According to Nadella, Microsoft intends to include generative AI technology from OpenAI into all of its products in order to make it accessible to billions of consumers. This means that the Office 365 product suite, which includes Microsoft Word, PowerPoint, and Outlook, is probably on the way to integrating ChatGPT's capability to generate text through short prompts.
I asked ChatGPT what it actually was, and this is the response I got.

And if you didn't know GPT stands for "Generative Pre-Trained Transformer." Who doesn't want a robot friend? Prior to researching this topic I was one of the many netizens openly admitting to be confused about the technology but I have been excitedly testing the platform's scarily human-like ability to provide well-researched content in seconds and in such a conversational way. Consider my mind blown! I even read that many netizens are using ChatGPT to write alternative endings to the iconic series Game of Thrones. The possibilities are limitless!
So, how can you use ChatGPT in your marketing efforts?
Research
Research is crucial for developing effective marketing plans, as any marketer will know, but ChatGPT can conduct your research for you. Here are a few examples of research tasks you could assign:
The most well-liked websites, channels, forums, profiles, and blogs for a particular target demographic
A complete list of the websites, channels, and profiles of your competitors
Popular search terms for a topic or queries relating to a keyword.
Content Marketing
Writing content has been ChatGPT's most typical use case.
To save you time, below are some examples of what ChatGPT can write for you:
Meta descriptions and titles for SEO
Blog entries
Posts on social media
Emailer campaigns
Strategy
Still early days but from what I have seen, ChatGPT can just about put together any strategy for any channel. ChatGPT is quite skilled at producing high-level outlines, although it is not able to create fully customized marketing campaigns just yet. Look at the results of this query. It is a great starting point.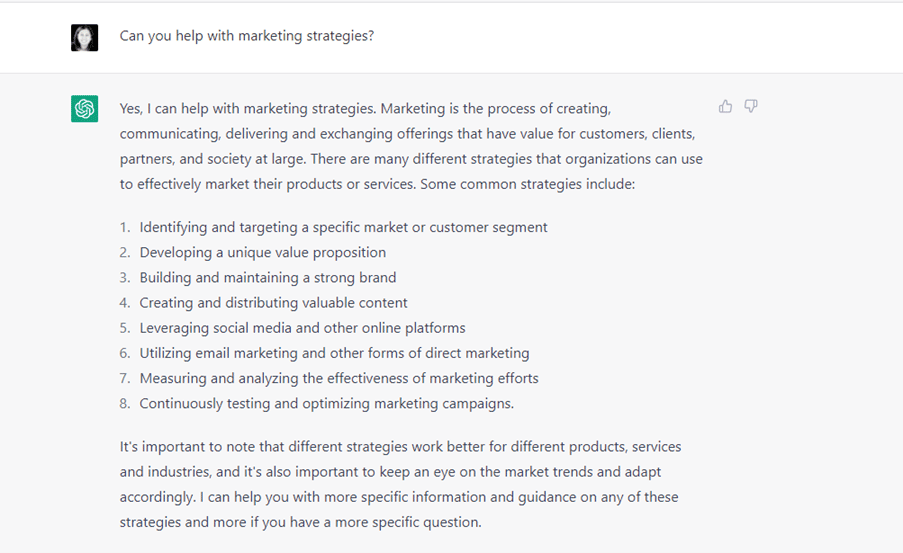 So the burning question is, will ChatGPT replace the marketing role?
Marketing is a complex and dynamic field that requires creativity, critical thinking, and strategic thinking. It involves identifying customer needs and wants and creating and promoting products or services to meet those needs. It requires understanding of market trends and the ability to anticipate changes in consumer behavior.
While ChatGPT can assist with certain marketing tasks such as creating ad copy, writing content and even analyzing data, it cannot replace the human touch, creativity and execution capabilities that is key to the marketing field. As marketers we have the ability to understand customer's needs, emotions and motivations and because of this we are able to adapt to the ever-changing market conditions that are specific to the markets we operate in. Marketing in the South African business landscape is vastly different to that of the UK or the US for example.
Conclusion
ChatGPT is one of the largest disruptions in recent years and will revolutionize the way we live, consume information and do business. This is a technological advancement that many businesses can't afford to ignore. Siri, Google Search, online marketing and your child's homework will never be the same. The possibilities are endless!