Focus on Priority Workloads By Automating Simple Repetitive Tasks
Why You Need Power Automate?
Discover improved ways to drive business growth and boost efficiency.
Power Automate is a new enterprise system from Microsoft Power Platform suite that allows to integrate and synchronize all our data analysis and applications in an automated way, with the aim of increasing productivity and business efficiency.
Turn a week worth of work, with just a few hours by replacing your manual work processes into an automated seamless operation. You can transform your business and stimulate productivity with a work less and do more approach.
ROI has also been recorded at 199% over the past 3 years, placing business transformation in the forefront of fast paced environments.
Get the Benefits of Intelligent Automation
How To Build Business Resilience with Microsoft Power Platform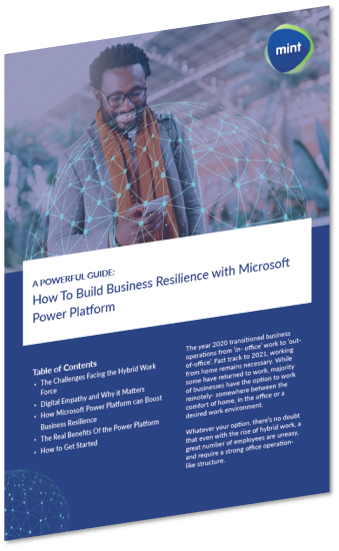 The year 2020 transitioned business operations from 'in- office' work to 'out of-office'. Fast track to 2021, working from home remains necessary. While some have returned to work, majority of businesses have the option to work remotely- somewhere between the comfort of home, in the office or a desired work environment.
The Top Benefits of Power Automate
By using Power Automate, businesses have reported an estimated 27.4% of reduced errors, through accelerated automation processes.
Collaborate Your Way With The Power Platform